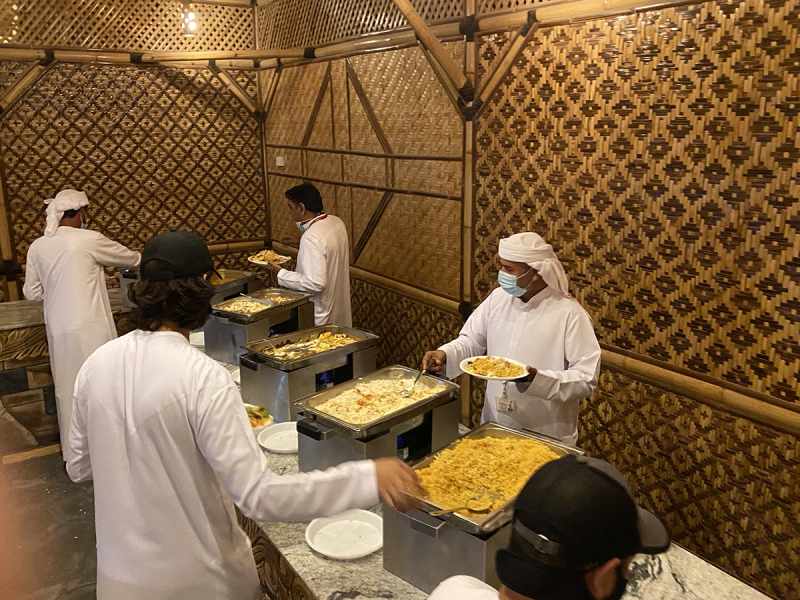 Whether you are visiting Dubai on a holiday with your family or on official work, a desert safari experience is something that you cannot afford to miss. Among the various safari options that are available to you, the Arabian Nights Dream Desert Safari is definitely the one that gives you not only the best experience but also long-lasting memories. Now, the best Desert Safari Tour Operator that can ensure a memorable experience is the Dubai Desert Safari Tours. Further, Tripadvisor, a reputed online travel company, has provided this operator with a Certificate of Excellence based on user reviews.
Arabian Nights Dream Desert Safari – What To Expect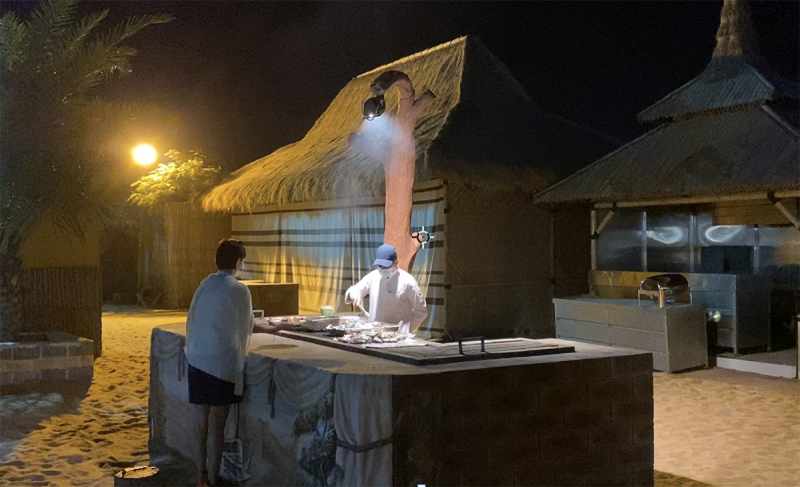 This safari is one of the most sought-after tours as it enables you to escape from the mundane city life and experience the life and culture of the Arabs in the right manner. You get to spend an entire night in the deserts of Dubai just like how the Arabs lived in the past. From thrilling activities to camping in the desert, cultural programmes, and luxury BBQ dinner, this desert safari tour would enthrall you with a breath-taking experience as you indulge in this amazing overnight desert safari.
The Overnight Desert Safari promises to give you the lifestyle experience you have read about in the famous "One Thousand and One Nights" (English version – Arabian Nights) which contains a collection of folk stories from the Middle East. The tour starts with you being picked up from your hotel or a designated point at around 3:00 to 3:30 pm in a 4×4 Toyota Land Cruiser or an equivalent vehicle. The tour comes to a close at around 8:00 to 8:30 am the following day when you are dropped back at the point from where you were picked up.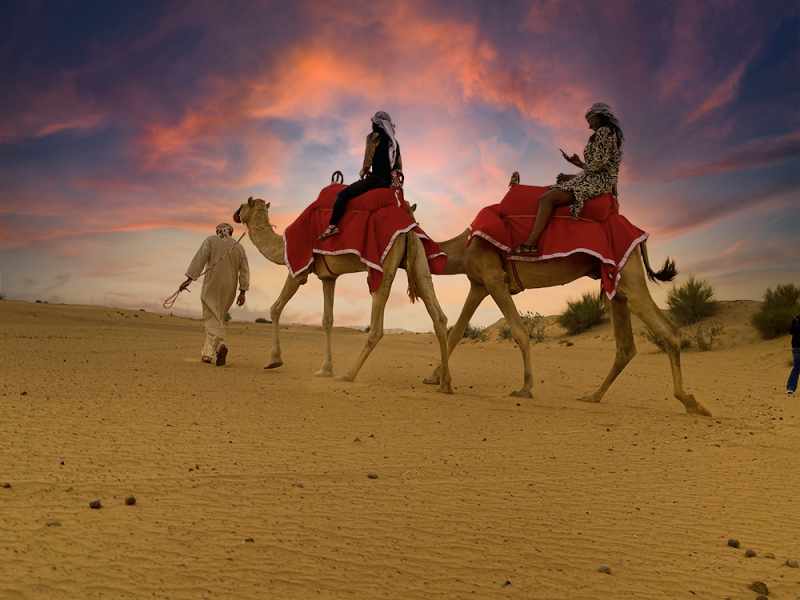 Arabian Nights Dream Desert Safari – Activities and Cultural Experiences
Thrilling Rides with Arabian Safari
After picking up, a short drive takes you away from the busy city to a vast stretch of sand dunes. The driver-cum-guide meets with a dozen other drivers who have brought travellers to the desert and you will be taken on the most thrilling desert activity called dune bashing. Basically a type of off-road drive, it involves driving up and down sand dunes at varying speeds. The expert driver maneuvers the vehicle skilfully to maintain balance as you are thrown around within the SUV. The thrill cannot be explained, it has to be experienced!
Other adrenaline-pumping activities that you can experience in the desert include sandboarding, quad biking/buggy riding (optional), and hot air ballooning (optional). If you are not interested in participating in these thrilling activities, you can opt for a long camel ride which gives you an opportunity to explore the flora and fauna of the Dubai deserts and take some incredible photographs. A short camel ride for about 20 minutes is included in this desert safari.
Sunset Viewing with Arabian Safari
By the time you complete your adventure activities, the sun would have started to set, engulfing the sand dunes in a golden glow. This is the best time for you to soak in the display of changing hues on the desert skies and capture some mind-blowing pictures. As the sun sets, you are driven to the campsite for a Bedouin lifestyle experience and BBQ dinner with both vegetarian and non-vegetarian cuisine options.
Campsite Experiences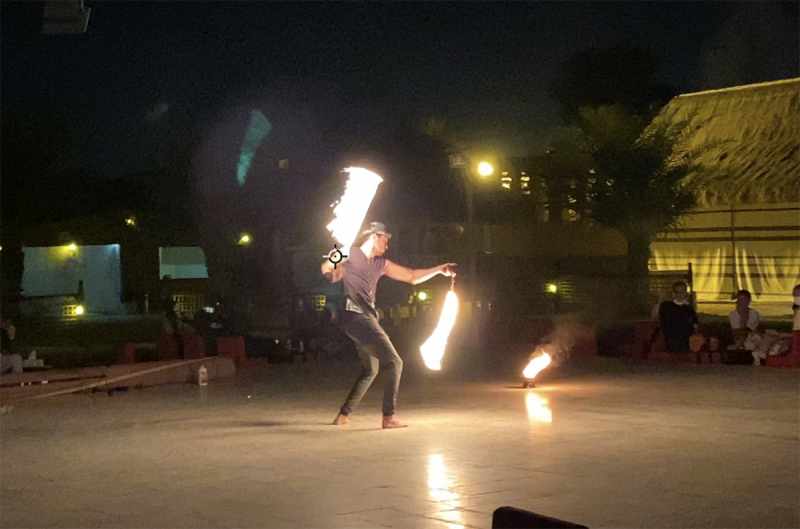 At the Bedouin-style campsite, you are welcomed with a cup of Arabian coffee. Dubai Desert Safari Tours ensures that mineral water and soft drinks are available to you not only at the campsite but also throughout the safari. The activities at the campsite that give you a clear idea as to how the Arabs lived in the desert in the past include hookah smoking, henna painting on the hands and feet, and taking photographs wearing Arabic costumes. You can also shoot pictures holding a falcon.
As you enjoy your scrumptious BBQ dinner, top-class artists entertain you by performing world-renowned dances such as belly dance, tanoura dance, and fire dance. Arabian Nights Dream Desert Safari is the only tour that allows you to enjoy a host of performances that are native to the middle-eastern region of Asia.
Post dinner, you can get back to the tent allotted to you for spending the night in sleeping bags complete with bed linen and woollen rugs that help you to stay warm. This is also the only tour that gives you a unique opportunity to gaze at the infinite number of stars sprinkled across the skies of the Dubai deserts.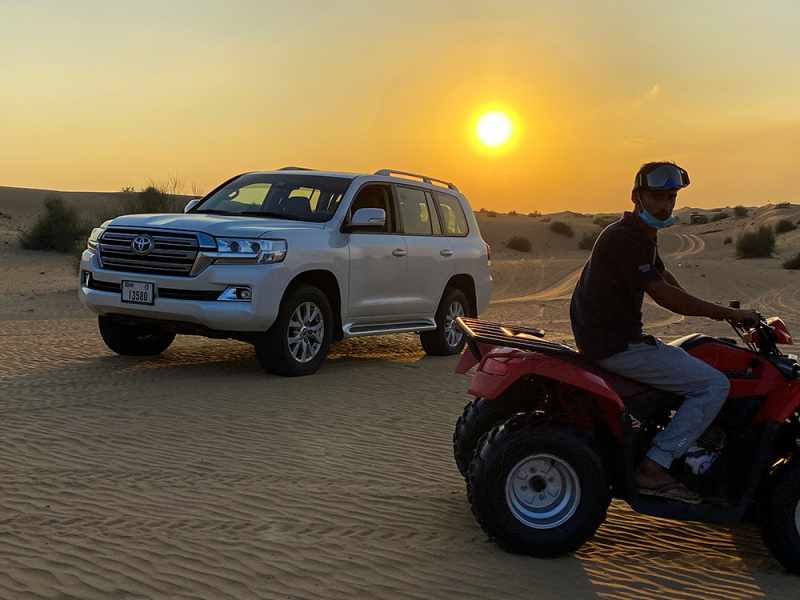 The Arabian Nights Dream Desert Safari just doesn't end with this. After a day of thrilling and fun activities and a dreamy stargazing experience, a delicious and sumptuous breakfast awaits you. The tour of your dreams comes to a close only when you are dropped back at your hotel or a specified location.