Dubai is inseparable from standard evening desert safari. It is exciting to watch the expansive yellow deserts and then explore its length and breadth, either on a camel, bike or jeep. One can have the true essence of the experience either by opting for morning or evening desert safari tour. It is the best time when you can enjoy the natural settings and sink in the sandy environments when the daylight changes its color. While morning one can cross the deserts by watching the skies turning from orange to yellow, it is vice versa when you take evening desert safari Dubai.
best evening desert safari in Dubai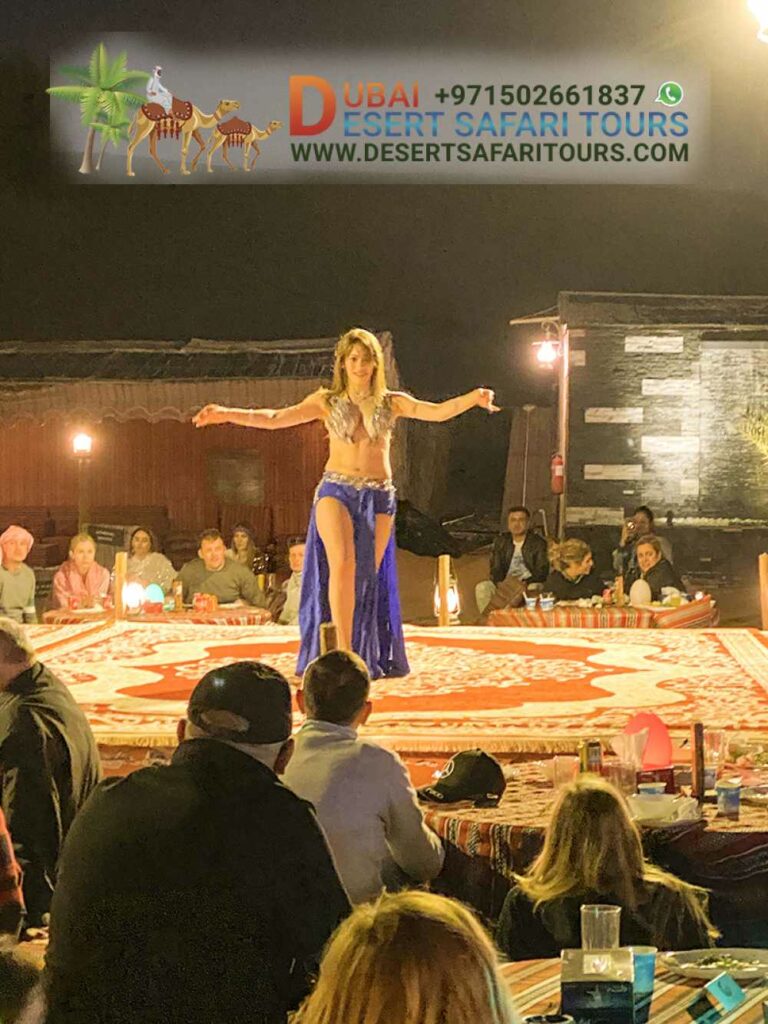 A world of fantasy and fun – Dubai evening desert safari with bbq dinner
There is so much to do in this striking upscale city of Dubai that it presents a complete holiday package in itself! A shopping and food haven, multiple amusement arenas and exciting outdoor adventures…many such things attract tourists from all over the world. Both young and old have something to enjoy here!
Best Tanoura dance in Dubai desert
Besides morning and evening desert safari Dubai has more options for those with adventure streak. There are sand boarding and quad biking where one can enjoy some adrenaline rush by cutting across the deserts. Once the sun sets, one can simply relax in the ambiance of open-air restaurants and watch the stars above. The evening gradually moves into the night as you relish traditional Arabic cuisines and belly dancing with a campfire nearby. You even have the option to join other tourists around the campfire and share respective traveling stories with each other. There are Bedouin settlements that one can visit to capture some wonderful moments on camera and also don Arabic costumes to pose for a click or two. 
Evening desert safari with bbq dinner
Without a doubt, a holiday in Dubai will get you enough sweet memories that will last for a lifetime. At least once, you have to visit this incredible place to get the best holiday experience.
Exciting moments on the go with evening desert safari tour in Dubai!
BBQ dinner desert safari in Dubai
The evening desert safari in Dubai offers a visual treat for the travelers. On one side the vastly stretched sand dunes glisten in the sun rays while on the other, as far as you can see the yellow sky tries to meet the desert at the horizons. It is quite refreshing to feel the gusty breeze and enjoy Nature; far contrasting to the plush shopping malls and restaurants in the city. While riding across the desert on a camel, the age-old mode of transport, one gets drifted into a mystical world of Arabs and legendary stories of Arabian Nights.
Belly dance in the Dubai desert safari camp
If you want to have a relaxing holiday adventure with total fun elements, then come and book an evening desert safari tour with us! We will provide exceptional quality services and customer care along with our exciting additional activities. Yes, our evening desert safari tour packages include add-on options to make your holiday completely worthwhile. Alternatively, you can exclude them from the tour package as well. With us, you can be assured that you will be well-taken care of by our experienced staff. While our evening desert safari tours are customized, our services are quite cost-effective also.
Try us out and you won't regret the investment with our evening desert safari tours with bbq dinner in Dubai!
For our customer reviews TripAdvisor and Facebook