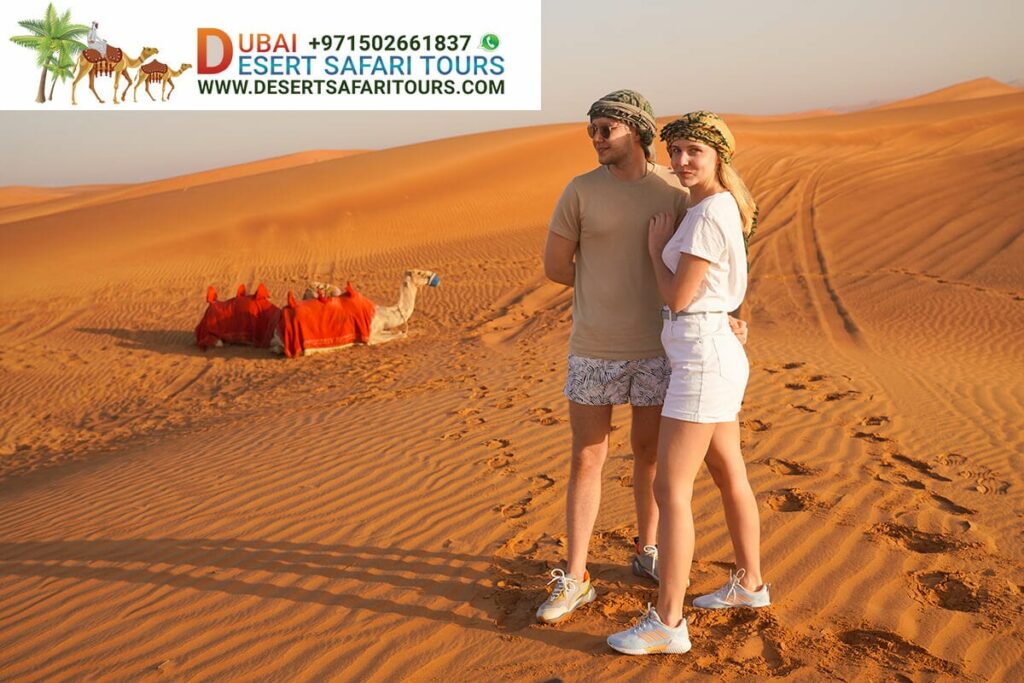 Sunrise Desert Safari Dubai – The Early Morning Surprise. The best time to enjoy Dubai's astounding desert scenery is in the morning. At dawn, the exquisite sand dune formations radiate a golden glow. If your search for the best tour operator in Dubai that offers a memorable Sunrise Desert Safari experience brought you to this site, you have come to the right place. We at Desert Safari Tours, one of the top desert safari tour operators in the emirate, provide personalized packages that enable you to experience the most compelling sunrise views in the Arabian Desert.
Your Sunrise Desert Safari adventure begins with you being picked up from the hotel in Dubai where you stay or from a desired/specified location depending on the package chosen by you. As you head to the desert in a 4×4 Toyota Land Cruiser, Hummer, or equivalent, you can enjoy a change in scenery. The cityscapes give way to the revitalizing desert sceneries.
As soon as you arrive at a specified vantage point in the desert, you can get ready to treat yourself to the sublime beauty of sunrise in the Dubai desert. You will be awe-struck by the blast of orange as well as bright red colors illuminating the clouds. Eventually, the entire desert will be covered by these colors. The incomparable and magnificent views of the sunrise against the tranquil desert background provide you with an opportunity to capture some extraordinary photographs.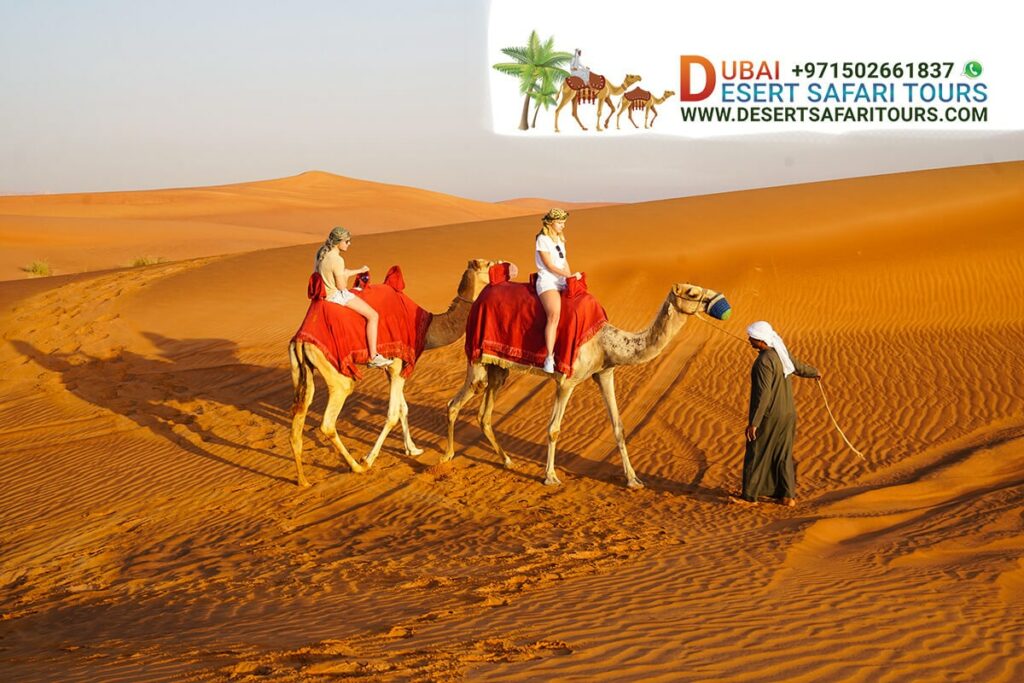 After viewing the spellbinding sunrise in the desert, you will be taken on an adventurous ride across the sand dunes. Referred to as Dune Bashing, the ride up, down, and across the tall dunes in a 4WD vehicle does not only drive your adrenaline levels up but also allows you to soak in the unspoiled beauty of the gripping landscape. Dune bashing is not the end of your desert safari activities at all. You get to experience a few more adventure and amusement activities as part of your Sunrise Desert Safari tour. These are optional thrills and they include such activities as camel riding, quad biking, and sandboarding.
If you are not the type of person that runs after adrenaline-pumping rides and experiences, you can take a step back and go on a leisurely trek on a camel along the powdery sands of the Dubai desert and calm down your mind. Camel trekking presents you with the best option to get a feel of the desert flora and fauna. Some of the vegetation you will come across during the course of your trek as Date Palm, Bougainvillea, Flame Tree, Frangipani, and Tropical Hibiscus. Apart from camels, a few animals and birds you can spot in the desert include Falcons, Arabian Oryx, Gazelles, and Arabian Hares.
Once you complete all of these thrilling and exhilarating activities, you head straight deeper into the desert to a setting that resembles that of the Arabs who lived in camps many years ago. This is the Bedouin-inspired campsite and it gives you an amazing experience of the ageless Emirati tradition and culture. In fact, you may look forward to going through a number of fascinating experiences at the campsite. They include painting hands and feet with Henna, taking photographs wearing Arabian costumes and/or holding Falcon in your hands, Shish smoking, etc.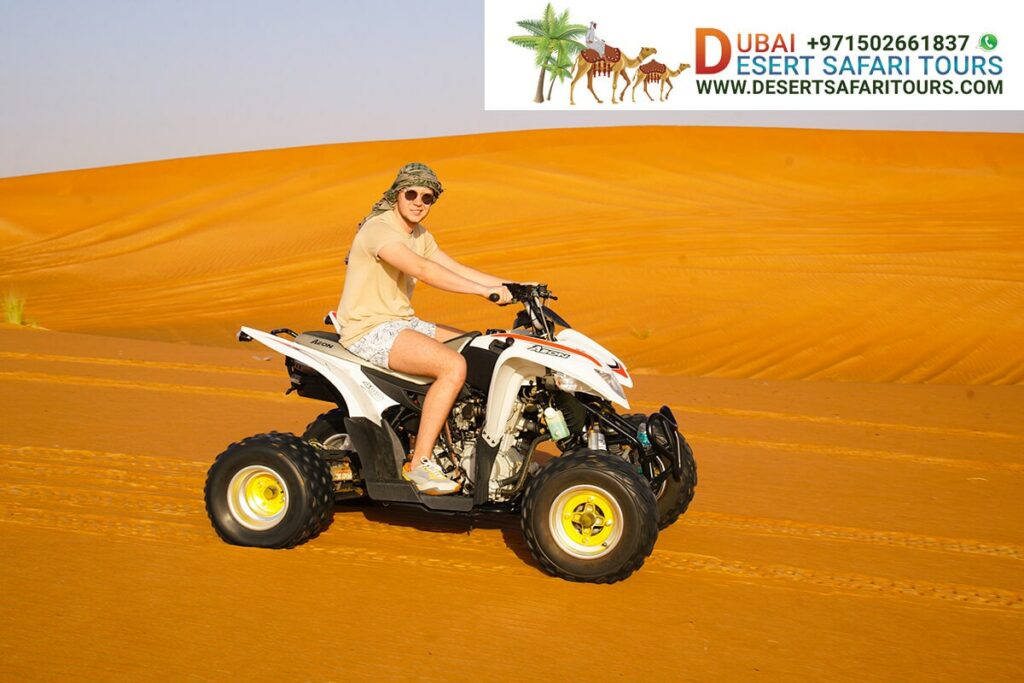 Additional Information about Sunrise Desert Safari
Picking you up from the hotel and dropping you back at the same place, refreshments and breakfast, mineral water and soft drinks as much as you want, stopping the vehicle for taking photographs, dune bashing, and driving you to a vantage point to view the sunrise are all included in the desert safari package. Sandboarding, quad biking, and buggy/ATV riding are optional activities. This means that you will have to pay an additional fee if you want to experience these thrills or adventure activities.
Temperatures could be a little low during early mornings even during the summer months. So, it is a good idea to keep light woolens with you. As the day progresses it becomes warmer and light cotton clothing would be more than sufficient. You can wear convenient footwear such as open-toed shoes, flip-flops, or sandals for your best Sunrise Desert Safari in Dubai.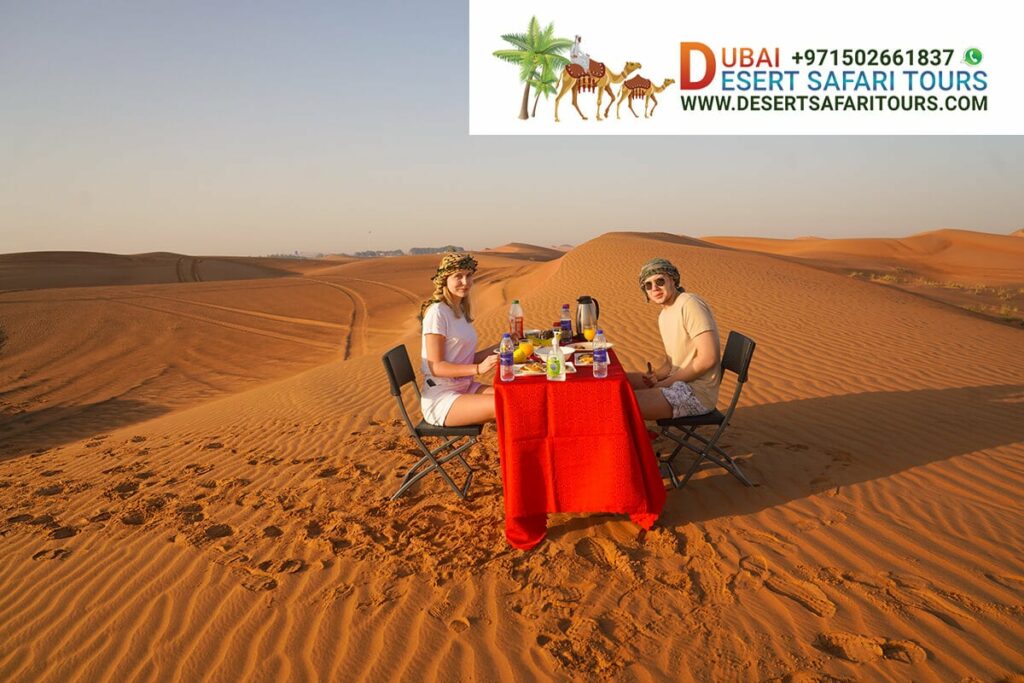 Summarizing, the Early Morning Desert Safari presents you with a rare chance to soak in the first rays of sunlight that illuminates the Arabian Desert. The scenic view that you get to enjoy as the day breaks and enlivens the desert landscape with a riot of colors is something you cannot enjoy anywhere else in the world. After a grand Sunrise Desert Safari experience in Dubai, you will be driven back to the hotel from where you were picked up. As all aspects related to the safari are perfectly organized, you will have the best experience and you will carry memories that you can cherish for a very long time.
Desert Safari Tours
Desert Safari Tours has been organizing tours since 1998 and offers desert safari experiences at highly competitive rates for tourists visiting coming to Dubai from all over the world. You can visit our website at https://www.desertsafaritours.com/. Tripadvisor has awarded a Certificate of Excellence to Desert Safari Tours because of the standards we maintain when organizing the tour packages.