What is the best desert safari in Dubai? If you are in Dubai on a vacation and want to experience the Emirati culture, you must go on a desert safari. From dune bashing to quad-biking to camping under the stars to hot-air ballooning, a desert safari in Dubai offers the adrenalin pump that you are looking for. The answer to your question, "What is the best desert safari in Dubai", in the chorus is the 'Evening Desert Safari'.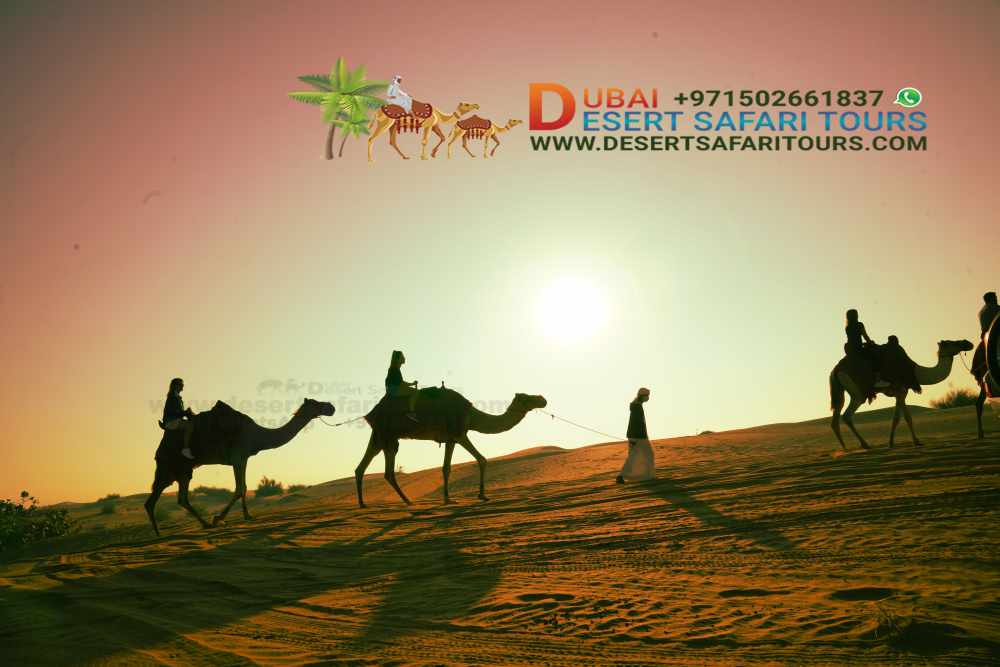 Why is the Evening Desert Safari the biggest hit with the tourists?
Venturing into the Dubai desert at sundown comes with a kind of magic that you can cherish throughout your life. Whether you are on a holiday with your family or on a short business trip crunched with conferences during the morning times, the late-afternoon/evening safari is one where you will feel well looked after.
If you are looking to make the best desert safari in Dubai booking on the Internet, your search will undoubtedly take you to https://www.desertsafaritours.com/. Desert Safari Tours, Dubai, is a Tripadvisor-recognized tour operator and is well-known for taking care of the tourists registering on their site for the best desert safari in Dubai. The top tour company also makes sure that all safety precautions and protocols of COVID -19 are followed for the utmost safety of their guests.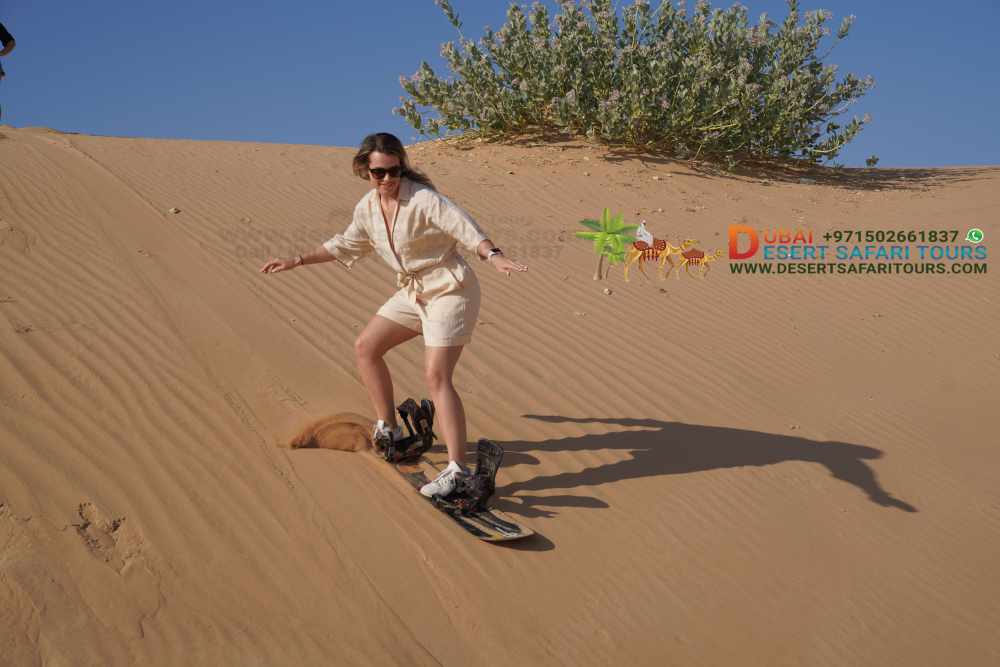 This safari is a must for every tourist that visits the UAE and looking to take back memories to share with their family and friends. Desert Safari Tours, Dubai, is the most reliable long-standing operator in this field to give you that experience.
The Evening Desert Safari in Dubai – The Program
If you have booked for the Evening Desert Safari in Dubai with buffet dinner and belly dance, this is likely to be the most thrilling experience of your holiday. There are more experiences that you can await: henna tattoo parlours, quad-biking, night-time star-gazing and camel riding, to name a few.
The tour starts with a licensed and experienced driver picking you up from your hotel/pre-designated point between 2.30 and 3.30 p.m. He drives you on a Land Cruiser to the meeting point which is only a few minutes away. There are many stops in the dunes for taking the best photographs when the golden sands slowly turn into a pinkish hue under the evening sun.
There are special stops at vantage points on the desert from where you can view the sunset over the dunes. This is also a great time for the photographs.
After refreshing yourself with mineral water, you can choose to take part in dune bashing, quad biking (optional) or camel riding.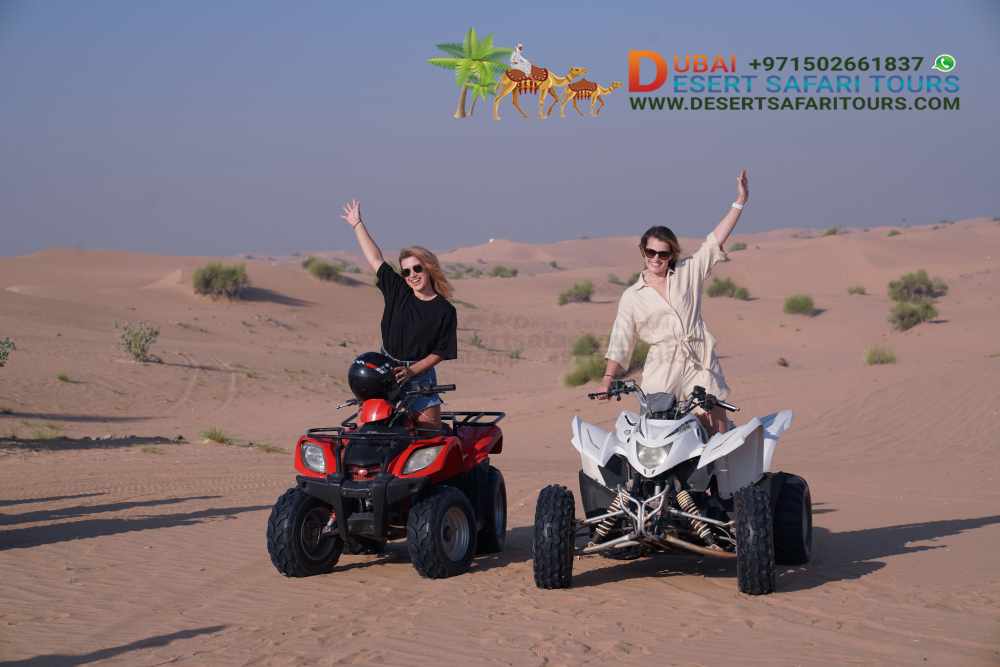 Dune Bashing
You can step into the 4WD for the most thrilling ride of your lifetime. Experienced and licensed drivers bash the sand dunes with their expert manoeuvres and this is a singular experience in the desert safari in Dubai. You are turned and tossed for close to 45 minutes in this once-in-a-lifetime experience. However, if you are pregnant or have medical conditions, it is better to stay away from dune bashing.
Camel Riding
Exploring the sand dunes of the desert on a camel-back tells you how the traditional Arabs lived their lives. This is also a chance to observe the flora and fauna in the desert in great detail. The 20-30 minute camel ride is a great time to click the best photographs of the desert scenes.
ATV Quad Bike/Dune Buggy Riding (Optional)
This is an optional ride that adrenaline junkies can look out for. You can learn to ride the all-terrain vehicle that takes you across the sand dunes for a full 45 minutes. It is completely safe and the experienced riders are available to accompany you on request.
Sandboarding (Optional)
Much like skateboarding, sandboarding is also a thrilling activity. You get to the top of sand dunes and then slide down on the sandboard. This 45-minute activity is one that you would not want to stop.
This closes the list of adventure activities of the evening Desert safari in Dubai. Next, you are taken to the Bedouin-style campsite for the rest of the activities in the evening.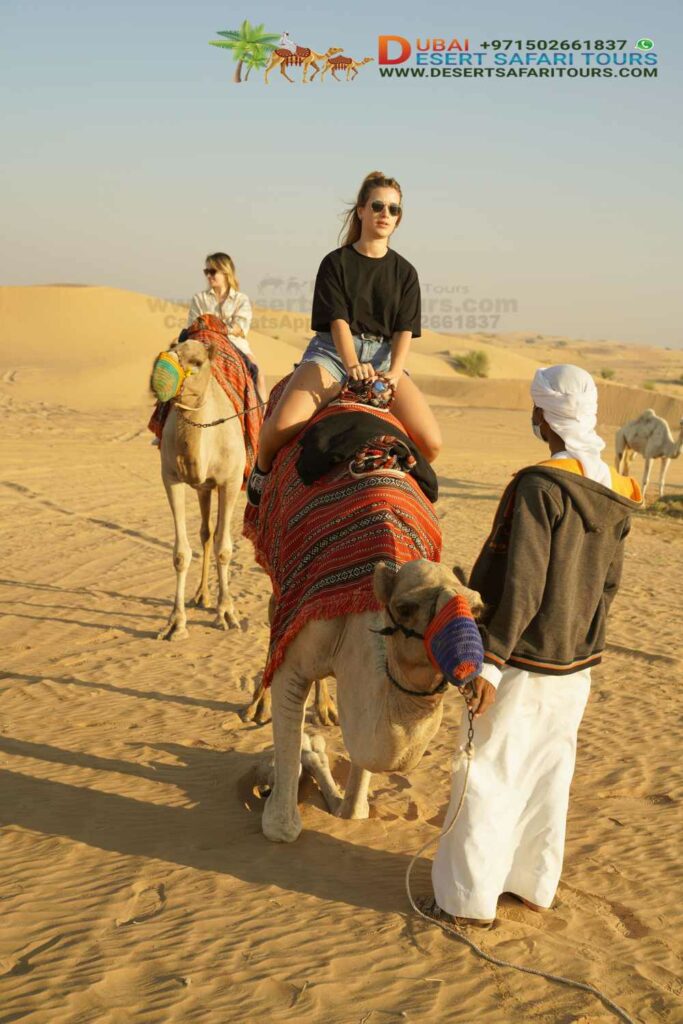 Campsite Activities
After your welcome into the camp with light refreshments like sandwiches, soft drinks and Arabian coffee, it is time for indulgence galore. A sumptuous buffet and in-house entertainment follow.
You can occupy your designated table for the rest of the evening. You can also choose to walk around and take part in activities like painting your hands with henna, shisha or hubbly-bubbly hookah smoking, or take pictures of yourself with Arabian clothes.
Once you complete these activities, you are invited for a sumptuous buffet spread of the choicest vegetarian and non-vegetarian food and desserts too. You can eat unlimited amounts of local and international cuisine to your heart's content. There is little wonder that this tour is by far the Best Desert Safaris in Dubai Tripadvisor listings. 
As you have dinner, you can choose to watch a host of other exciting shows: (on special days)
Belly Dance
Tanoura
Fire dance
Yula
Return from the Safari
Soon after dinner, you can board the same car that picked you up in the afternoon. The 5-6 hours safari gets over by 9.00 pm. The same driver drops you back at the same spot from where you were picked up.
Inclusions
Pick-up and Drop-off
Refreshments
Free mineral water
Dinner
Dune bashing
ATV Quad Biking (optional)
Camel ride (20-30 minutes)
Exclusions
Alcoholic beverages
All the paid services (henna painting, shisha smoking, etc.)
When you are booked for the Best Evening Desert Safari in Dubai with Desert Safari Tours, you can be sure of the most memorable experience of your lifetime.